Just returned from a weekend in Boston, where I witnessed a spirited evening of new-ish music courtesy of Dinosaur Annex, and had a reve­la­tory Chinese meal courtesy of the Peach Farm. I also took lots of photographs for a class I'm starting, and was eagerly import­ing them when my Aperture library decided to collapse in a heap of corrup­tion. And of course I'd already erased my camera, but hadn't backed up, so I lost them all. I was espe­cially sorry because there was one of a tub of eels.
In the excite­ment over the actual content of New York Phil's season announce­ment, I missed that they also unveiled a totally new identity! This makes me inde­scrib­ably happy. Their old logo and graphics were so generic I actually had to remind myself what they looked like— oh, right:

A swoosh. A musical staff, sure, but still trite, corpo­rate, and completely bland, not to mention poorly executed.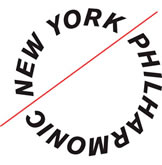 The new logo is the polar opposite. The roles of the graphic and the type are reversed; now, the letter­forms them­selves create a sense of motion and excite­ment, and the red line is the anchor (like a baton! I get it). The typog­ra­phy is certainly uncon­ven­tional (it reminds me of a circular saw blade) but I think that's kind of what the Phil needs right now— an antidote to years of staid, unin­spired admin­is­tra­tion. (Take a look at some beau­ti­ful logo treat­ments at Penta­gram's blog.)