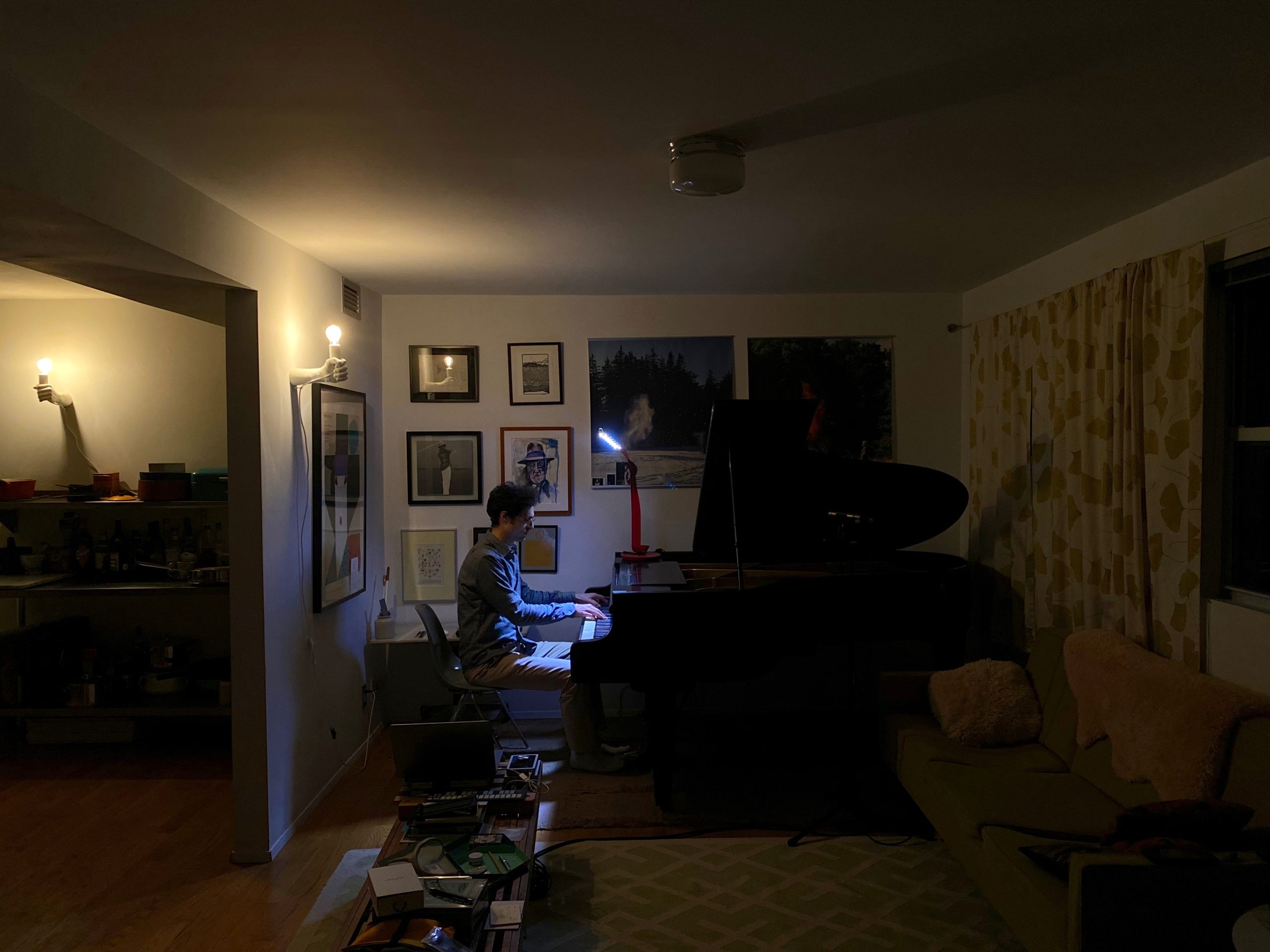 I'm "playing" a concert today, though it's more accurate to say I'm "releas­ing" it, on YouTube. One of the strange things about this concert, which I was supposed to play tonight down­stairs at Carnegie Hall—my first solo recital there—was that it began with the idea of a living room, and it's ended up in one. The original impetus behind it was a set of piano pieces collec­tively called I Still Play, which were written for former Nonesuch Records pres­i­dent Bob Hurwitz as a retire­ment gift from 11 Nonesuch artists. Though the pieces were written with the idea that Bob might enjoy prac­tic­ing them at home, we ended up premier­ing them at the big BAM opera house, and they've gone on to lead active public lives since; they'll be released on record May 22.
But of course, for the past six weeks, they've returned home, where they're likely to remain for the time being. When I got word that Carnegie Hall would be closed through at least mid-May, I was disap­pointed but hardly surprised—I'd been dreading the email as I watched cancel­la­tions pile up. What do you do when a day you've been antic­i­pat­ing, with an odd mixture of fear and joy, nervous excite­ment, and, I'll admit, pride, for years—suddenly becomes a regular day? I mean, what do you liter­ally do, in that moment? I can tell you that after sending the news to a few iMessage threads (fishing for sympathy, I suppose) I spent the rest of the evening drinking very good whiskey, and a few days later deleted the event from my calendar and my website. The initial need for sympathy faded quickly, I'm relieved to say. But the disap­point­ment persists.
What I most missed was the chance to share the work I'd already done. I'd devised a varied and inter­est­ing program, focusing on some of the American piano liter­a­ture I love the most. I'd been prac­tic­ing in earnest since November, had put my writing schedule on hold, had convinced Carnegie to commis­sion a new piece, from the wonder­ful composer Gabriella Smith (her first for solo piano). I'd gotten my friends at Yamaha to send over my favorite Bösendor­fer piano for the night. I'd even gotten a very sharp new suit made, which now feels like an absolutely insane thing to have done. But most of all, it was the prac­tic­ing that I worried would vanish in a small puff of wasted effort.
Inspired by similar efforts by musician friends like Nadia Sirota, who very quickly devel­oped and produced a thriving stream­ing show called Living Music, and Cécile McLorin Salvant, whose live-streamed living room shows feel like real occa­sions, I threw myself into docu­ment­ing my Carnegie program before it inevitably fell victim to the entropy of No Deadline. If nothing else, it provided a project, some­thing to struc­ture my days around, and a way to follow through on the months of work. My methods were extremely DIY—I was suddenly my own piano tuner, record­ing engineer, video­g­ra­pher, editor, promoter. I'm not equally good at these things, and some I'm distinctly bad at. You can hear the record­ing quality get better over the course of the project, as I learned how to better capture my piano's strengths. The equip­ment I used was just what I had on hand—my iPhone, a couple of mediocre mics I've owned since grad school, some old de-noising software from a long-disbanded torrent site.
I wanted to make it in this slow, method­i­cal way, rather than as a livestream, because it seemed like a chance for the docu­men­ta­tion to become part of the process—not only the prepa­ra­tion for a kind of high-wire act that the public never gets to see, but a record of what life has been in confine­ment. It also afforded me a chance to shift perspec­tives. Now that audi­ences are virtual, I could be my own test audience. I was in two places at once, literally—at the piano, but also behind the camera and micro­phones (I don't think I've ever spent so much time watching and listen­ing to myself as I have in the past six weeks).
The music has taken on new depth during that process—I suppose I'll always think of this as my "quar­an­tine program," for better or worse. I love it all even more now. Each of the I Still Play pieces is a little conver­sa­tional gem, distill­ing an aspect of its author's voice into a concen­trated nugget. Gabriella's Imag­i­nary Pancake is a knockout, not only a blis­ter­ingly virtu­osic show­piece but a beau­ti­ful, grand, sculp­tural form—I'm glad for it not to sit indef­i­nitely in un-premiered limbo, and can't wait to hear other pianists tackle it. Robin Holcomb's Wherein Lies The Good has quickly become one of my favorite pieces to perform—it encap­su­lates so many partic­u­larly American musical moods, at once familiar and diffi­cult to place. There's a piece of my own on the program that's new, at least to my fingers—Old Ground, which has to do with an idea of a specif­i­cally American original sin. Record­ing it has allowed me to get that needed distance away from having written it, so I can begin to see what works and what doesn't. The two pieces I've known the longest are Rzewski's Winns­boro Cotton Mill Blues and Copland's Piano Sonata. Both pieces repre­sent, to me, the best qual­i­ties in American music—a direct­ness, almost blunt­ness, that manages to be at once vernac­u­lar and avant-garde. I also find both pieces deeply tragic—the Copland in a rhetor­i­cal, elegiac mode, a stark contrast to Rzewski's angry polemic.
I don't know yet if a concert works as a YouTube playlist—this is all an exper­i­ment. I look forward to being able to share it with you in person. But I've loved making these videos for you in the meantime. Making things feels espe­cially satis­fy­ing just now, whether it's a record­ing or the pork shoulder I've got in the oven this after­noon. Between those two things I feel we'll pull through this.
A quick thanks to Carnegie Hall and Nonesuch Records, for giving me permis­sion and encour­age­ment to do this, to Yamaha Artist Services, and to Gabriella Smith for writing Imag­i­nary Pancake, and to Chris Cerrone for his invalu­able record­ing advice. And as always, to you, for listening.