D. works in a lab here at Yale studying aspects of taste and smell. As one of her on-the-job "perks" she came by a couple of tablets of Mira­c­ulin, made from Miracle Fruit, which causes sour and bitter foods to taste sweet (there was an article about this in the Times a few months back).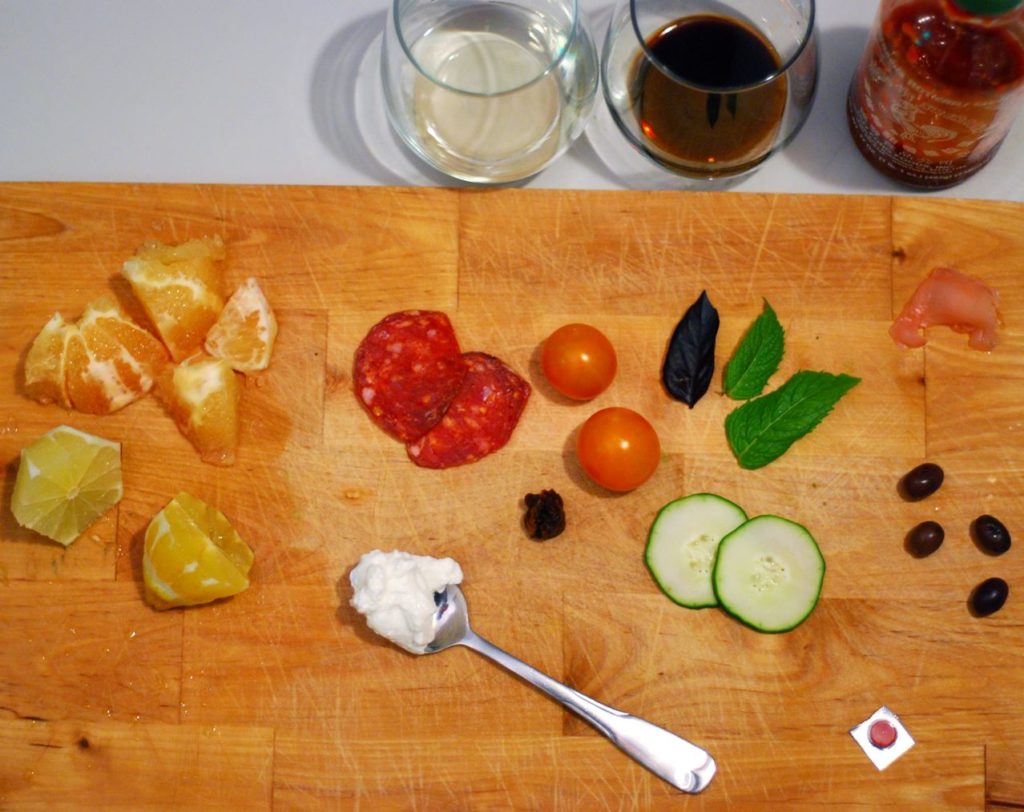 I just had my own private "flavor-tripping" party and here are the results:
The pill itself tastes really sour, which is not what I expected. D. and I both thought it tasted a little like plain tamarind (which is not one of my favorite things— I'd prefer to use it in Pad Thai). So letting the thing dissolve on my tounge was not pleasant. But it was over soon enough. The effects are supposed to last about 20 minutes.
First thing I did was boldly bite into a suprèmed lemon. It was deli­cious. Tasted like fresh lemonade with just the right amount of sugar, but in a solid fruit.
The lime was similar; it was like perfect lime soda.
The grape­fruit was my favorite of all the citrus, though more subtle; it just tasted like a really good Texas grape­fruit (which it wasn't. I tasted it before­hand for comparison).
D. advised me to try some Greek yogurt, which is very thick and unsweet­ened. The flavor was nicely balanced, a little rich for me— I could imagine it being good spread on a scone or some toast.
The cucum­bers tasted no differ­ent, so I used them as pallette cleansers between courses.
The sushi ginger was not notice­ably differ­ent either, maybe because that stuff is pretty heavily sweet­ened already.
These sun-gold cherry tomatoes are also quite sweet to begin with, but like any good tomato, they have a strongly acidic bite. The mira­c­ulin played up the sweet­ness while covering up the acid, which made for an initially exciting but ulti­mately lacking tomato expe­ri­ence. Adding the purple basil just tasted like adding basil.
This white wine had been sitting in my refrig­er­a­tor awhile, and it was getting pretty sour. I had high hopes that the mira­c­ulin would render it a deli­cious Sauternes or Gewürz­traminer, but it still tasted like bad wine. Just really sweet.
The tamarind (that brown chunk in the middle of the photo) tasted like one of those tamarind lollipops from Mexico. It didn't win me over.
Hot soppre­satta remained just that.
The balsamic vinegar was still very potent; I think this might have had some­thing to do with the fumes. It was drink­able, though, certainly no less than strong alcohol.
The sweet­ness of Sriracha was played up to the point of being a bit cloying; I wouldn't squirt it on my dumplings if it always tasted like that.
So, I think the grape­fruit was the clear winner, with the other the citrus coming in close second. Why not order some for yourself?