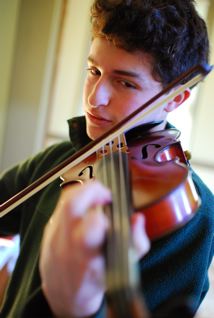 I spent last week at my family's ances­tral home in Wash­ing­ton, CT. I don't remember what I did, exactly, but I think it involved many days of alter­nately cooking and eating.
I also got to play the piano badly and for fun, which is not some­thing I usually have the time or energy to do in New Haven, perhaps because I don't have a piano in my apart­men­t's living room. I took out all my volumes of Schubert sonatas and even pounded through the Hammerklavier. It was epic.
My brother Wells's violin playing has blos­somed to the point where he can sight-read Brahms and Beethoven with aplomb. We were reading through Brahms's third sonata, and I had a shocking real­iza­tion in the first movement devel­op­ment: it has a constant dominant pedal. I can't think of any other examples of this in the clas­si­cal liter­a­ture. Can I even still call it a "devel­op­ment"? It's really just an extended dominant pedal leading into the recap. Here, listen:
Brahms: Violin Sonata no. 3, op. 108, first movement development
Robert Mann, violin; Stephen Hough, piano
I guess what aston­ished me was not the presence of the pedal, but how it threat­ens and ulti­mately subverts the feeling of sonata form in the movement. There is none of the bluster and bombast that Brahms usually brings into his devel­op­ments; all the tension is roiling just beneath the remark­ably calm surface. Instead, all of the outward drama gets post­poned until the recap's tran­si­tion into the second theme, which swings wildly and at top volume between harmonic regions. In the normal trajec­tory of a sonata, one has a sense of "release" or "return" at this point; here, that sense has been completely under­mined by the relative stasis of the development.