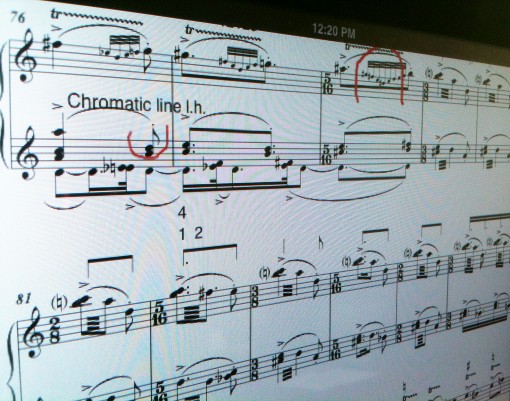 It's funny, for all the time I've spent hanging around composers and playing their music, I haven't had many pieces written specif­i­cally for me, Timo, the Pianist. So earlier this year I asked a couple fellow Sleeping Giants, Jacob and Ted, to write me new solo pieces. I didn't give them any direc­tion or tell them to play to my specific strengths (such as they are)—and I got two wildly differ­ent pieces. Jacob's Clifton Gates is a rather mono­lithic, slowly-building medi­ta­tion on various live elec­tron­ics tech­niques; Ted's Parlour Diplo­macy, on the other hand, contains a wild assort­ment of material over five move­ments and 20 minutes, and treats Clas­si­cal Style in tones alter­nately reverent and satirical.
Last month Ted and I drove up to Ryan Stre­ber's Oktaven Audio in Yonkers to record Parlour Diplo­macy on the wonder­ful Hamburg Steinway that lives there. It was an intense session followed by even more intense martinis next door. Here's the first movement. I'm very pleased with how it turned out because it makes me sound like a much more virtu­osic pianist than in reality I am.
Ted Hearne: Parlour Diplo­macy I. Five
Timo Andres, piano; Ryan Streber, record­ing engineer
I highly recom­mend you click through to Ted's Site and listen to the rest of the piece. Over here now.