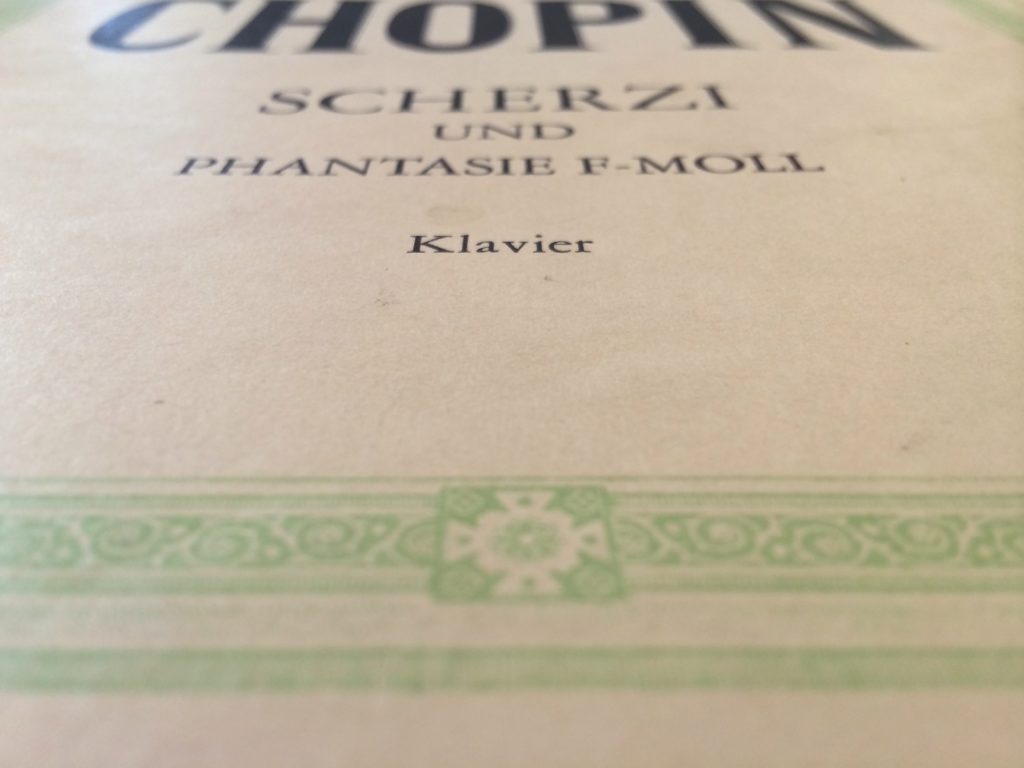 The follow­ing is an article I wrote for Fort­night Journal in Spring 2012, during the course of writing Old Friend for the pianist Kirill Gerstein. Since Fort­night is now defunct, they've kindly given me permis­sion to re-publish it here.
⁂
It's not quite a convic­tion, more of a nagging suspi­cion, that I get each time I'm faced with the task of writing a new piece: it's finally happened, the jig's up, you've alto­gether run out of ideas. Oh well, it was nice while it lasted.
There are plenty of histor­i­cal examples of composers who actually did "run out of ideas". Aaron Copland spent his last two decades conduct­ing his own previous works; Charles Ives was stymied working on his wildly imprac­ti­ca­ble Universe Symphony, falling silent for the follow­ing 35 years; around the same time, Sibelius's inabil­ity to complete an eighth symphony cast the last 30 years of his life into self-destruc­tive depres­sion. The pop world can be even harsher; there's a kind of critical glee when an artist fails to live up to the creative promise of their 20's.
There's some­thing about being a composer which feels slightly fraud­u­lent. It's a far less Promethean occu­pa­tion than the "composer" of popular conscious­ness. Writing music is more like refash­ion­ing some­thing which already existed, had always existed; it's making a suffi­ciently unrec­og­niz­able collage out of other peoples' mate­ri­als. Adding to this percep­tion is the fact that it can be so much fun (people pay me to do this?) and that much of the process doesn't feel like "work" in the tradi­tional sense, at least not how I do it.
This week's "work" is starting on a new piece for solo piano. Again, by all appear­ances, I am not exactly working, but instead playing through Chopin's third Scherzo rather badly. I am enjoying myself immensely. Sight-reading, as opposed to goal-oriented prac­tic­ing, is very freeing. You don't have to stop and sort out all the little tech­ni­cal problems of learning a piece, instead you just revel in its partic­u­lar world, enjoy the sounds of the piano, the blocky chords and approx­i­mated arpeg­gios. In the moment, you manage to convince yourself of the bril­liance of your own seat-of-the-pants interpretation—yes, that's how Chopin meant for it to be played!—even though you've put in no careful thought and consid­er­a­tion, only tried one of a thousand possi­bil­i­ties. In the Chopin Scherzo, my "reve­la­tion" is to take absolutely no liber­ties with the tempo—I'm playing every rhythm exactly as notated. This is the kind of extrem­ist approach that may even­tu­ally lead to a useful approach to the piece, but in its unadul­ter­ated form sounds more like a stubborn bulldozer.
Still, the bull­dozer approach has some merit—particularly in the middle section, where that beau­ti­ful block chord chorale alter­nates with fantas­tic-sounding descend­ing arpeg­gios from the top of the keyboard. Under­stand­ably, most pianists I've heard take their time here; it's a deeply expres­sive passage, full of satis­fy­ing harmonic shifts and suspen­sions (little held-over notes which, when added to an unsus­pect­ing chord, make it sound even better—like harmonic salt). The disad­van­tage of all this swooning is that one loses the sense of forward momentum. It's just chords and arpeg­gios randomly situated in time, rather than a long melody stretched over a harmonic progres­sion leading to an inevitable conclu­sion. Some rhythmic disci­pline seems to be in order.
What is it about those arpeg­gios that sound so good?—better than a normal arpeggio, which is just a chord with its notes played one after another rather than at the same time. These have a real tune embedded within them, one that you can sing (sort of) and which leads the listener down the keyboard in an inex­orable sequence. I start fooling around with the figure, leading even further, down to the muddiest depths of the piano, making it modulate and start again, even overlap with other occur­rences of itself, in differ­ent keys and at differ­ent rates. Might be some­thing there. I often get ideas this way, making the jump from the inter­pre­tive (pianist) to the creative (composer) side of me. I've become inter­ested lately in embed­ding harmonic change in the actual musical material, instead of simply imposing change onto existing material—constant change becoming a foun­da­tion on which the music develops. Absent-mindedly butcher­ing a bit of Chopin may have showed me a way to apply this abstrac­tion to my new piano piece.
⁂
My New Piano Piece starts with a big section based on the skeletal melody I extracted from Chopin. I've arranged it to start at opposite ends of the keyboard, the two hands moving toward each other at the center. When they meet, they keep going downward—but the melody also starts again at both ends, displaced by half a beat, neces­si­tat­ing flying leaps in both hands in order to play both things at once. These indi­vid­ual entrances—a canon of sorts—build up momentum, volume, and harmonic density, and things start to go a bit haywire. New canonic entrances start to appear where they should­n't, certain lines accel­er­ate wildly, and before long it's a black snarl of notes, octaves and arpeg­gios moving up and down the keyboard all at once, crossing each other and starting again. This may be the most diffi­cult and outwardly virtu­osic thing I've written in quite awhile.
Through this first section, the rising left hand notes grad­u­ally morph into their own new idea—a cycle built from five-note groups which is like a machine for changing keys, constantly doubling back on itself, rising and falling unpre­dictably but always in strict rhythm. Before too long, these quin­tu­plets are the only thing going, first loud and bril­liant, rising to the very top of the keyboard, then mirrored by a soft and gentle response.
The quin­tu­plets wind down, leaving the music open and rather spare. A new version of the opening melody is played very high, but it has a new char­ac­ter, also inciting harmonic change. It sounds a bit fugal now, like a piece of Bach-ian counterpoint—which, in fact, it is, though the follow­ing section sounds quite unlike Bach. It owes more of a debt, in fact, to the music of Conlon Nancar­row, who wrote intensely complex contra­pun­tal pieces for his own modified player-pianos. His canonic voices move at differ­ent speeds, wander all over the keyboard, seem­ingly inde­pen­dent of each other but in fact fitting together in a precisely calcu­lated way. My Nancar­row section is not quite as complex—it's going to be played by a human being, remember—but it has the same quality of stum­bling back, lurching forward, and not quite settling into a follow­able rhythmic groove. Even­tu­ally the voices do come together, though, and the music becomes more of a straight chorale—that is, inde­pen­dent voices moving in harmonic and rhythmic unity. It's still a fugue, actually, though each new appear­ance of the subject finds it slightly differ­ent, as well as trans­posed by a half-step.
After winding itself up and becoming quite loud, the fugue trails off slowly, over­taken by an almost lullaby-like sequence (a rhythm which repeats while modu­lat­ing). There is an almost-refer­en­tial quality to this music, as though it could be from a 19th-century waltz—expect that it's not formed into predictable units of eight and sixteen bars, instead wander­ing slowly down the keyboard, growing hazy in a wash of grace-notes in differ­ent keys. The sequence is answered by short, upward-moving chorales low in the bass, hinting at a similar theme in the Chopin scherzo. This trade-off between the high, waltzy music and the low chorale contin­ues for several more iter­a­tions, each time building to a slightly louder dynamic and a more urgent harmony. It all builds to a rather brash state­ment of Chopin's original chorale (with a few extra notes added).
If this has all sounded quite relent­less so far—each new section esca­lat­ing, building, getting louder and faster and more complicated—that's quite true. It's a relent­less kind of piece, both in its treat­ment of musical material and in the chal­lenges it presents to the pianist. This is a bit unchar­ac­ter­is­tic. Much of my favorite music, espe­cially recent music, is minimal, static, repet­i­tive, completely lacking in baroque, devel­op­men­tal drama. I love writing like that, too, but lately my compo­si­tional mood's been restless, not content to let a piece simply sit and revel in its own sound. I'm not sure why this is, but it doesn't partic­u­larly alarm me. Some­times I feel more like an inter­ested observer, eager to find out new things from my music, and to be led to them.
⁂
I've known I would write this partic­u­lar piece for about a year. That's a fairly short timeline, from commis­sion to comple­tion, in the so-called Clas­si­cal Music Industry, which for all I know has probably decided what will happen on the World's Great Stages in 2022. I'm writing it for a young fire­brand-type named Kirill Gerstein, whose career is a refresh­ing break from the Russian Virtuoso mold; he spent years studying jazz before deciding to return to Rach­mani­noff and Tchaikovsky, and has been commis­sion­ing a string of new pieces for himself (an alarm­ingly uncommon practice among today's major clas­si­cal players).
All this aside, the only impor­tant thing for me in writing for a pianist besides myself is: do I like the way they play the piano? I'm hyper­crit­i­cal of other pianists, to a far greater degree than other instru­men­tal­ists; this is as it should be, since it's the only instru­ment I have a true tech­ni­cal under­stand­ing of how to play.
It's mostly a matter of taste, though, which is another way of saying that the things I like are somewhat random. The pianist Ivo Pogore­lich recorded that Chopin scherzo in the 1980's, on a bizarre Chopin album that I cherish—it's unhinged, distorted, completely un-Chopinesque. But it's convinc­ing; the same cannot be said about most other self-indul­gent virtuosi. I'm usually more of a Richard Goode or András Schiff guy, two pianists who put out a steady stream of unim­peach­able readings of unim­peach­able 19th-century works, year after year. I don't initially know where Kirill's playing falls on this over­sim­pli­fied matrix, but any initial hesi­ta­tion I may have had about him was dispelled by a concert at Le Poisson Rouge, the under­ground clas­si­cal music lair on Bleecker Street. He plays Liszt and it doesn't sound like "Liszt"—it is gripping and sure-footed in a new way. Virtu­osic, too, but not for the sake of virtu­os­ity. There's a calmly method­i­cal element in his perfor­mances, as if his uncon­ven­tional approach is guided not by hotheaded rebel­lious­ness but by genuine curiosity.
Stan­dards of perfor­mance for new music are often lower than those for the classics. I am not certain why this is but here are a few possi­bil­i­ties. Those who are lucky enough to make it as super-virtuosi do so because they play what's familiar, music that's time-tested and a reliable pallia­tive to audi­ences. There's a long history of perfor­mances of those works, so there's more pressure to perform accu­rately (people tend to notice when you flub a big chunk of the Moon­light sonata); addi­tion­ally, it's easier to make a convinc­ing case for a piece when you've listened to all the greatest musi­cians of the last century play it, thanks to record­ings. With brand-new music, tech­ni­cal preci­sion too often becomes the sole concern. The piece is always finished too late, always contains passages that are too diffi­cult. Having the dicta­to­r­ial composer breath­ing down your neck doesn't make learning it any easier. The reverse of the virtuoso problem often, sadly, reveals itself here; a performer's professed devotion to the new and exper­i­men­tal may be another way of saying that they couldn't hack it playing the classics. Every composer has sat through excru­ci­at­ing perfor­mances of their work, train wrecks that cause finger­nails to burrow into palms, breath to constrict, render eye contact impos­si­ble for the next several hours. A large part of becoming a profes­sional composer is figuring out how to avoid these situ­a­tions, though as your music works its way farther afield, the like­li­hood increases that it will find its way into the wrong hands. I try to maintain an attitude of zen calm about this entire conun­drum. I also try to schedule evening "dentist's appoint­ments" on days when I feel danger­ous perfor­mances may lurk.
The way to insure that a perfor­mance goes well is to write not just for the best musi­cians you can find, but the best musi­cians you can find who are your friends. This process should ideally start early, in college. Your friends will, most impor­tantly, feel a personal oblig­a­tion to do the neces­sary work; they will also, usually, forgive the impos­si­ble string cross­ings you've written, your demands for more rehearsal, your careless cutting remark. They will also be your music's best stewards out in the Real World. Not everyone you meet in school will go on to be a profes­sional musician, but many will, and it's exciting to watch your class­mates become profes­sional colleagues forging their various paths. Some become teachers or profes­sors, some join orches­tras (or conduct them), some form quartets or trios or take up with bands. Some find their way into the more commer­cial worlds of film and TV music. A very few might estab­lish them­selves as soloists. Most do an amal­ga­ma­tion of these things; versa­til­ity is key.
All this is to preface: I am quite certain the Kirill Gerstein will do my piece every justice it deserves, and I'm confi­dent that he'll be able to manage any diffi­culty I throw his way. It's a good feeling, and I'm throwing him plenty. Also impor­tant: I know I won't have to learn it myself, at least not for a while. I'm feeling very good about dele­gat­ing the responsibility.
⁂
A strange aspect of writing music for acoustic instruments—a fairly accurate if overly literal descrip­tion of what I do—is that the basic tools are the same as they were in the nine­teenth century, when the symphony orches­tra was stan­dard­ized. Certainly there's been incre­men­tal progress in technique—percussionists play more instru­ments, winds and brass play higher—but it's still just applying a bow to a string, passing air over a reed, striking a string with a hammer. I wouldn't say I compose out of nostal­gia, but I do like this element of old-world craft. Orches­tra is one of those specific media, like oil paints or marble or 35mm film, which provide a good balance of constraints and possi­bil­i­ties. I never feel boxed in writing for these instru­ments. Quite the opposite; creating some­thing using 300 years of accu­mu­lated tools can be inspiring.
I tend to look back­wards a good deal when I'm writing a piece, perhaps more so than other less clas­si­cally-grounded composers my age. The way I'm using material and making a refer­ence to Chopin is not unique to this partic­u­lar piece. All music is made from the music which preceded it, and I'm inter­ested in this process of influ­ence and filter­ing, whether conscious or uncon­scious. When I hear a new piece of music, I really like being able to parse influ­ences; it gener­ally signi­fies that the composer wasn't to concerned with some concept of "orig­i­nal­ity", which is a chimera anyway. Every composer can't possibly rebuild music from scratch, and why should­n't listen­ers be able to guess what music you love and admire most?
Quota­tions, refer­ences, and "borrow­ing" feel like natural musical phenom­ena to me. Perhaps because I grew up with the music of Charles Ives—the American composer noto­ri­ous for co-opting every­thing from Beethoven and Bach to the latest ragtime marching band tunes—I've always liked the way a refer­ence can express some­thing differ­ent from its original context. And it doesn't even have to be some­thing that's neces­sar­ily heard on the surface. When I first started trying to write larger-scale pieces, early in high school, I'd look to other works to use as struc­tural models. I espe­cially admired the way Aaron Copland built his forms, so I'd figure out how he'd put together a sonata or a symphony, and simply fit my own music into the moulds.
This hind­sight is also great for a kind of histor­i­cal decon­tex­tu­al­iza­tion. It can be a divert­ing mind-game: what if Brahms had heard Ligeti's music? What if Mahler had conducted Ives? (this almost happened, actually—one of the great "what ifs" in music history). Brahms looked back­wards, too—he knew his Palestrina—and merged what he learned with his 19th-century Viennese mileu. And now I have the distinct advan­tage of being able to learn from both Brahms and Palest­rina. Quota­tion, even if only I know it's there, is a way of giving a little tip of the hat to a musician I feel I've learned from, or who's helped me in some way, even if they happen to have been dead for 150 years.
⁂
Today was one of those freak­ishly lovely early spring days, where it seems like all of Brooklyn has decided to emerge en masse from its burrow. Also I reached a "double bar" on my piece. This is not the same thing as being finished with it, but it still feels like a symbolic accom­plish­ment. One doesn't really plan compo­si­tional work down to the day, so reaching such mile­stones is always a nice surprise. I'm cele­brat­ing with a beer on my balcony, watching people come and go from their yoga classes next door.
The great majority of pieces I've written end quietly and this one is no excep­tion. I find it diffi­cult to imagine a truly convinc­ing loud ending. I can't even think of many pieces I like (post Clas­si­cal-era) that really have satis­fy­ing, loud endings. John Adams has a few, though Harmo­nium, perhaps his grandest piece, ends with a trade­mark hushed grooves (à la Reich's Music for Eighteen Musi­cians). Messiaen—perhaps a candi­date, though I often feel as if he's reached (reli­gious) climax without me. Every­thing I try in this vein seems too brash, too eager to please, or somehow un-earned, as though any loud event I write requires a quiet, thought­ful comment to follow. One of my long-term compo­si­tional goals is to figure out a way to 'end with a bang' but without being too Carmina Burana about it. Perhaps the next piece.
The end is a sort of mirror image of the big, virtu­osic opening section—only now it's extremely quiet, both hands gliding over the keyboard at inde­pen­dent speeds, crossing each other, and going back the other way. It's all built from the same stuff, but now those arpeg­gios sound open, distant, almost Impres­sion­is­tic. Even the harmonic machi­na­tions of the quin­tu­plets simply drift away—we're hearing them from a distance now, and they become a single, large shape rather than lots of tiny inscrutable ones.
After today's double bar there remain a few things to deal with. One is a title; I simply haven't come up with anything remotely suitable, even after leafing through all my sketch­books and post-its full of possi­bil­i­ties. This will take some thought, or maybe some conve­nient happen­stance. I try not to take titles too seri­ously even though I am very opin­ion­ated about them. If the music is good and title mediocre, few will mind. But a really good title can draw the audience in, make them curious, stick in their minds and provide some­thing to mull over for a while. After that first impres­sion, the impor­tance of the title fades away. It's just a given name, after all; the music is the thing which goes on to lead an actual life. Also it's gotten pretty tiresome writing an article about a piece which I keep having to call "My New Piece", like a partic­u­larly unin­spired third-grader.
Two, a bigger conun­drum, is that I need to clean up the notation. My New Piece has ended up being very complex in parts. Even though what I've written is for just one musician, there are long sections where the music is essen­tially of two, three, even four inde­pen­dent "voices" which each move at differ­ent speeds, are often in differ­ent keys, and occur at differ­ent regis­ters of the keyboard. Some­times they cross each other, passing from treble to bass and hand to hand. What I need to figure out is how to balance the horizontal—keep the musical voices clear and separate—with the vertical, help­fully indi­cat­ing which notes should be played by what hand.
This is impor­tant because notation—the way the composer chooses to convey pitches, rhythms, dynamics, and expres­sions on the printed page—can have a huge effect on how well the performer is able to receive his or her inten­tions. There is not usually one single correct way of notating a passage of music, and as complex­ity increases, so too do the number of possi­bil­i­ties. The 20th century spawned a certain vogue for invent­ing new nota­tional systems, not based on standard printed music; some of these scores contain instruc­tional prefaces signif­i­cantly longer than the pieces them­selves. I regard this as some­where between mildly divert­ing concep­tual art and total fraud. The best engravers find an elegant balance some­where between clear­ness of inten­tion and graph­i­cal clean­li­ness of the page. You don't want to over­whelm the performer with direc­tion; this is sure to inspire a wooden, unin­spired reading. You want to gently guide them into follow­ing your direc­tions, careful to maintain a consis­tent and unmis­tak­able edito­r­ial voice without becoming too didactic. The composer can't, and should­n't, make every single decision; other­wise the performer is rendered a mere robot.
A few days later. I'm in LA for ten days to play a few concerts. On the plane I managed to pry open my laptop and sort out most of the notation issues, and do some last-minute format­ting. I'm feeling good about My New Piece, thinking about sending Kirill a PDF in the next week or so. This too feels like an incred­i­bly final step, even though it's not. Revi­sions are certainly possible, and to a certain extent, likely. But I haven't showed him any music yet, and there's always that low-level fear that reveal­ing the result of the commis­sion will inspire regret.
Also, worry­ingly, the piece now has a tail. I stayed up late a few nights ago and added a little extra music on the end when I got home, a kind of dour elab­o­ra­tion on the original ending. I haven't decided how I feel about it in the daylight. Ampu­ta­tion may be necessary.
It doesn't feel as though I've truly done much writing at all, over the past month. There's always a curious feeling of distance once I'm finished with a piece, as if it were simply extracted from me while under anes­the­sia. And in fact, I'm only "finished" with one thing: writing down a set of instruc­tions. The real life of the music starts here—rehearsing, prac­tic­ing, perform­ing, hearing differ­ent people play it in differ­ent places for differ­ent audi­ences, revising, record­ing, poring over takes. Only later, after being reminded by these things does the real­iza­tion set in: "Oh yes, I'm the person who wrote that music"—and by then it's become an old friend.