A few obser­va­tions about Wednes­day's Radio­head show:
1. It melted our faces and vibrated our bowels.
2. Thom is getting older (but he can still dance). I noticed it in his voice, though; the group inten­tion­ally avoiding playing songs with more extreme high parts, and often Thom would slightly alter the vocal lines to include fewer falsetto notes (espe­cially in Paranoid Android).
3. Could Paul Lansky ever have envi­sioned 30,000 people wildly gyrating to Mild und Leise?
4. Radio­head hired some good lighting design­ers. Most of the visuals were quite beau­ti­ful and well-suited to the music. The was a partic­u­larly neat effect used during Every­thing in its Right Place (one of my favorite songs ever) where the lyrics of the song were projected against a forest of dangly rods so that it looked as if the text were scrolling towards you. There were two problems, though: IT'S "ITS", NOT "IT'S". I can't believe nobody caught the misplaced apos­tro­phe in 1,000,000-point bright green type. See Strong Bad's unfor­get­table mnemonic. Also, about that type: it was Comic Sans. No kidding. Radio­head's visuals have their share of quirky typog­ra­phy, but this seemed somehow… unsuitable.
5. After A Wolf at the Door, Thom mentioned the title of the song "in case you were unfa­mil­iar with it". This seemed like an odd choice, espe­cially in the context of the show, which was extremely light on chit-chat. Why would anyone be unfa­mil­iar with that song? It's the last track on Hail to the Thief. Strange. The song has always kind of stuck out to me, though. Musi­cally, it feels like a throw­back to much earlier, Pablo Honey-era Radio­head.
6. Jonny did a little musique-concrète intro to The Gloaming on his Kaoss Pad (I think) which sampled some obnox­ious commer­cial/ra­dio-announcer types of voices. One line that popped out at me was "Win a Macbook Air!" It reminded me of this photo I found a while ago of Thom proudly display­ing a vintage rainbow Apple sticker: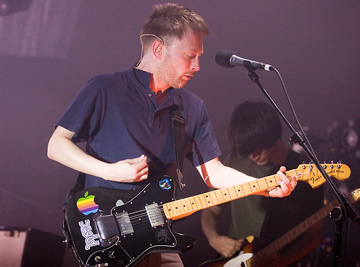 I guess liking Apple products is no longer all cool and coun­ter­cul­ture. Oh well, it's what we wanted all along, right?
7. I was excited to see Grizzly Bear, the opening act, but appar­ently nobody else was. Hardly anyone showed up until the stage­hands were busily setting up Radio­head's lighting appa­ra­tus. Which was sad, because they were really good. Those guys do close harmony amaz­ingly well. The ampli­fi­ca­tion was a bit over-aggres­sive, though; the guitars were strangely sharp and punchy, without the beau­ti­ful haziness of Yellow House. Also, it would have been nice if Radio­head had let them use their piano. I'd love to see them in a more intimate venue with a more enthu­si­as­tic crowd.
8. Much has been made of Radio­head's tour-greening efforts, but I'm sure that the carbon emis­sions from the disaster of a parking lot at the Comcast Center completely canceled out all the offsets that were purchased (not that carbon offsets are such a great idea anyway). Along with thou­sands of other cars, we sat in the parking lot for two and a half hours just waiting to get out. This place makes Tangle­wood look like a marvel of traffic planning.