I am freshly back from an adven­ture in Iowa with the Waterloo-Cedar Falls Symphony, listen­ing at home to their perfor­mance of Bathtub Shrine. The CD appeared in my dressing room when I went to pack up after the concert. That's how you should do it, orchestras!
Waterloo-Cedar Falls Symphony, Jason Wein­berger, conduc­tor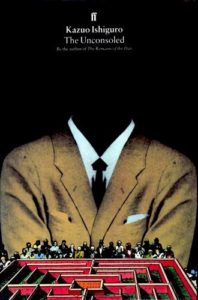 Over the past couple of out-of-town jaunts I've been reading Ishig­uro's The Uncon­soled, at the recom­men­da­tion of my friend Carl Willat. It's the third of his books I've read, and by far the strangest—it pulls off the trick of being fasci­nat­ing and will­fully boring at the same time. What initially drew me in is that it's about a composer-pianist (!) who visits an unnamed city to give a Very Impor­tant Concert. I'm not implying that my out-of-town expe­ri­ences have been anything like the events in the book (really! Don't take this the wrong way!) but I know it will resonate with any of you itin­er­ant musi­cians. There are some passing details which I know composers will enjoy, too, such as an extended debate about musical theory in which the theo­ret­i­cal concepts and terms are all fictional.
Now it's back to the grind­stone; looks as though the next few weeks will be free to compose. I have just deliv­ered a new piece to the Cadillac Moon Ensemble, called Trade Secrets; the parts for Old Keys are mailed out; and the wonder­ful Kristin Lee is playing a short piece I wrote for her this week at a Metrop­o­lis Ensemble fundraiser, though the public-at-large will have to wait to hear it.
Which reminds me, hearti­est congrat­u­la­tions to Andrew Cyr and Kate Gilmore, who have just produced a baby boy!