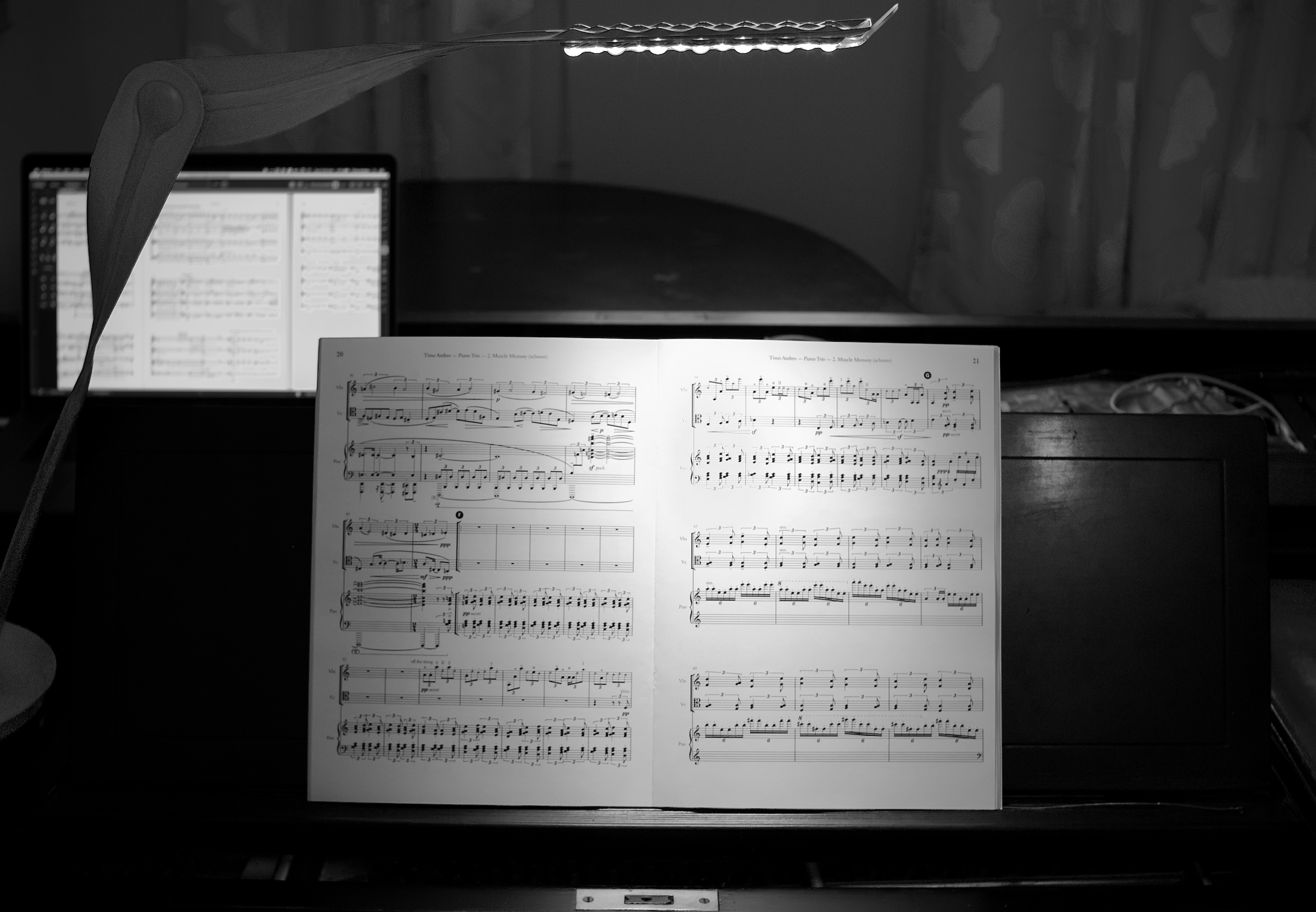 If "clas­si­cal music" is a niche market, and "new music" a niche within it, then those of us who care deeply about recent devel­op­ments in notation software must be a small fraction of the popu­la­tion indeed; for us, the advent of Dorico, the first new indus­trial-strength notation program in decades, has been nothing less than thrilling. By now the circum­stances surround­ing its birth have been well-told. The progress of the software has also been painstak­ingly docu­mented. But two and a half years after its initial release, I haven't seen much written from the perspec­tive of composers about the expe­ri­ence of working in Dorico long-term. I've been using it since the first version came out in October of 2016—at first gingerly, on small side projects. At that point I'd spent half my life using Sibelius.
As artists, and espe­cially as composers, our tools matter. We're using them to make musical scores, which are essen­tially tools for other people. Anything we can do to make our work more readable, stan­dard­ized, error-free, and beau­ti­ful is some­thing we should feel compelled to do. But our tools have to be well-made and stream­lined enough for us to want to use them, too (other­wise we'd all be writing in SCORE). I can't over­state how nice Dorico is as a daily tool. The inter­face is clean, crisp, and non-distract­ing; fonts and icons are sharp and tasteful; palettes and dialogues have effi­cient and sensible work­flows. All the small design choices add up to a coherent whole, just like the details in a well-engraved musical score.
The process of compos­ing is differ­ent for everyone, of course. I like to write straight into the computer, sitting at either a piano or a MIDI keyboard. And the actual day-to-day inde­ci­sion of compos­ing is fluid and graceful in Dorico—jotting down ideas quickly and then wrestling with them over long periods, trans­form­ing, cutting, splicing, and rear­rang­ing them every which way. You can edit without fear of trig­ger­ing a cascade of errors and messes else­where in the score. The program will never protest about a tuplet; extra­mu­si­cal lines and indi­ca­tions move in lockstep with notes; extra­ne­ous rests are cleaned up for you; beams are re-beamed correctly. Its handling of rhythms is so good that it surpasses mere conve­nience and becomes an actual creative tool. All of these things initially felt, and continue to feel, like small miracles.
One of the biggest adjust­ments in Dorico is one of overall attitude; the program goes beyond merely placing musical symbols on a page. Instead, whenever possible, it strives to under­stand the musical inten­tion behind those symbols. Its under­stand­ing of notation is aston­ish­ingly flexible and deep, but it does nudge you to write things in seman­ti­cally standard ways. This is codified in the very orga­ni­za­tion of the program. For example, there's no concept of a "line" as an abstract object, the way there is in Sibelius. Rather, there are entirely separate tools and options for pedal markings, tempo modi­fi­ca­tions, ottava lines, slurs, hairpins, and other line-like objects, each avail­able only when contex­tu­ally appro­pri­ate. All of these objects are customiz­able, but not endlessly so; I haven't been able to recreate my dozens of special pedal lines from Sibelius.
This means that the program can't be tricked into graphic notation the way Sibelius or Finale can. But in those programs, it was always a compro­mise anyway, stuck in limbo between a music notation program and a very rudi­men­tary graphics editor, with the score losing all semantic meaning, objects constantly going astray, and part extrac­tion a painful, manual endeavor. That said, composers who rely on aleatoric and graphic nota­tions should hold tight for the moment, as they will feel constrained by Dorico. (Dorico does, however, handle open meter quite well—you can write freely with no time signa­ture at all.)
The under­ly­ing struc­ture of a Dorico project can seem daunting at first. In setup mode, one is presented with a list of players (either solo or section), and each player can be given one or more instru­ments to play. Instru­ment changes are handled auto­mat­i­cally; the third flutist will be warned when to switch to piccolo, and the music for both instru­ments will magi­cally appear in the same part. Or if you decide that actually the second flutist should double piccolo, you just jog over to setup mode and drag the piccolo instru­ment onto player 2—the piccolo music you've written magi­cally moves to their part. I recently had to expand a percus­sion section from two players to three; I simply created a new player, dragged over the chimes, tam-tam, and crotales, and my third percus­sion part was done in seconds.
There are also flows, which are kind of like move­ments; each flow can contain as much or as little music as you want. Each can have differ­ent players assigned; not everyone has to play in every flow. Flows and players come together in layouts, which are like parts but don't neces­sar­ily have to be. Each layout shows the music for one or more players using various layout options you've set up (for differ­ent kinds of scores or parts). In the special Engrave mode, you'll find page layout features, similar to frame chains in InDesign; even in its current very basic form, this is an amazing way to control what music appears where. What all this layered complex­ity means in practice is that you no longer have to maintain separate files for various aspects of a single project (say, a reduc­tion, a full score, a "parts" score, a vocal score, and separate files for each movement). Every­thing is contained in one file, all options remain­ing change­able at any time.
Dorico tries to be this smart about every­thing, and if that makes you nervous, it probably should; software doesn't usually do a great job at intu­it­ing deci­sions that can often come down to taste. However, Dorico ends up being right surpris­ingly often, by which I mean "correct accord­ing to the prin­ci­ples of Elaine Gould." If everyone switched to Dorico right now and used the default settings, the global level of engrav­ing quality would rise signif­i­cantly. But much of the beauty of music engrav­ing lies in the degree to which composers use stan­dard­ized systems in personal ways. Dorico needs some work in this area; so far, there's no equiv­a­lent to Sibelius's 'House Styles' feature which makes trans­fer­ring settings and customiza­tions to new scores easy. The program can occa­sion­ally be madden­ingly priggish in its pursuit of correct­ness. If you happen to enter a playing tech­nique not in its pre-popu­lated dictionary—even some­thing rela­tively standard like alto sul tasto—it will respond by doing…nothing. You're left guessing as to why the phrase you just typed has disap­peared. You can, of course, add alto sul tasto to the dictio­nary, but this is a step which takes you out of the flow of compos­ing; Dorico should offer to do it for you, at the very least. Simi­larly, if you start typing words into a dynamic, Dorico will attempt to trans­late them; "p very dark" becomes, hilar­i­ously, "molto p dark." Dorico gets clever with dynamics in other ways, too, hori­zon­tally grouping them as well as linking them verti­cally between staves. This is a good idea but in practice often leads to unin­tended deletion, addition, or redun­dancy, espe­cially in tall scores where you can't always see the entire system onscreen at once.
Large projects are frus­trat­ing in other ways, too. There's no equiv­a­lent to the 'focus on staves' feature from Sibelius, so orches­tral scores can quickly become unwieldy in galley view (panorama), espe­cially as the percus­sion section grows. The program also has an unfor­tu­nate tendency to slow down as the project expands; all that behind-the-scenes intel­li­gence comes at a cost. Certain oper­a­tions become almost comi­cally slow, such as adding a new instru­ment. I appre­ci­ate the work Dorico is doing in the back­ground to beau­ti­fully respace and reflow every­thing, but a progress bar would be cour­te­ous. After spending months writing a large piece for chorus and orches­tra using Dorico, switch­ing to Sibelius to perform some quick edits on an old score felt amaz­ingly snappy by compar­i­son, even for simple things like moving dynamics. (This contrast brings back memories of the switch from Classic Mac OS to OS X two decades ago; OS X felt slow for a few years, but it was nonethe­less so clearly better that I preferred to use it anyway.)
Dorico is still new, and the issues I've outlined will surely be resolved in time. To switch to Dorico today involves making a delicate calculus of time and features gained and lost, the inevitable learning curve of a complex new program, and of course, whether or not the final results are worth it. And the scores Dorico makes are, indeed, beau­ti­ful. Its note-spacing algo­rithms alone have ruined me forever. I find myself wishing I had time to re-engrave old Sibelius scores, which now look wonky and haphaz­ard to me. Dorico's engrav­ing style is, by default, bolder than Sibelius or Finale, which gives music a purpose­ful, stolid look on the page or screen. But it's graceful, too; the visual weights of symbols, slurs, note­heads, and dynamics are wonder­fully harmo­nized. The intel­li­gence of Dorico's note and acci­den­tal spacing also means music can be more tightly spaced, both verti­cally and hori­zon­tally, while still being readable. This is impor­tant for sight-reading, because the eye can parse more music, more quickly. The overall effect is signif­i­cant enough, I think, that it will lead to mate­ri­ally better perfor­mances and rehearsals with fewer errors. And isn't that, in the end, what music notation comes down to?
For me, the decision to switch to Dorico felt almost preor­dained. It's the exact inter­sec­tion of so many of my obsessions—music engrav­ing, typog­ra­phy, user inter­face design. For the most part, my music uses the standard nota­tional prac­tices in which Dorico excels at the moment, and I'd been frus­trated with Sibelius's long­stand­ing short­com­ings and design flaws for years. Should you switch from whatever you're using to Dorico? That depends on your needs and predilec­tions. At the very least, keep an eye on it; Stein­berg's been adding both major features and small refine­ments at a break­neck pace, and Dorico 3 is said to be just around the bend. If you're serious about engrav­ing and you frequently have strong feelings about software design, I think you'll love working in Dorico as much as I do.